Wartime Women in Forestry
Research compiled by Elizabeth Groom
There is a not very well documented history of women working in suppression for CDF much earlier than the stories of the female pioneers of the 70s. I've found several stories of women working for CDF in the 40s, not just as lookouts and dispatchers, and not just as volunteers. There were women staffing stations, manning fire trucks and generally accepted into the force as employees during the manpower shortages of the 40s. (**and yes, in this context they were MANpower shortages) See the information below for both the stories of the all female San Marcos station crew and some articles of the not-inexperienced Eleanors of RRU (Eleanor Hebert & Eleanor Schnurr) who worked as dispatchers, lookouts and even FFTD.
Queens who Quench Fire never Tire
San Diego Tribune, May 22 1943 by Naomi Baker photocopy donated by Chief Candace Gregory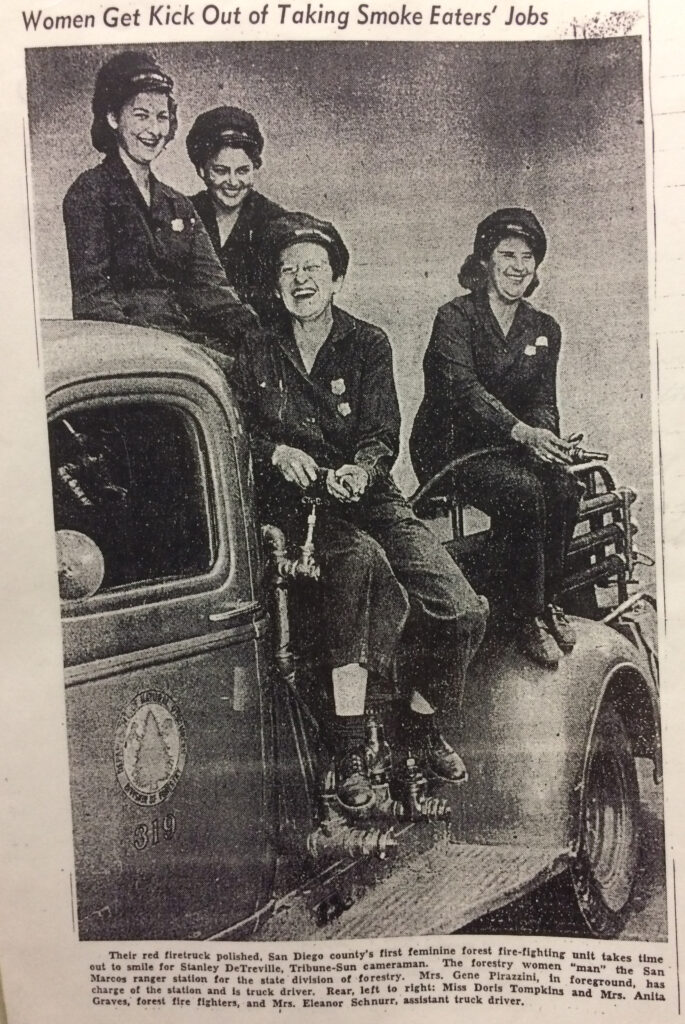 Blaze Battles Thrilling but Feminine Forestry Crew Willing
by Naomi Baker
"Let's Roll girls."
That's the equivalent of "Man your battle stations" to San Diego county's first feminine forest firefighting unit – perhaps the first women forest corps in California.
"Manning" the State Forestry Division's San Marcos ranger station are four women, each with a man in the armed forces, and each with avowed determination to battle the Axis ally, fire, until men come home from war and take over the jobs.
Ask Mrs. Gene Pirazzini, of Valley Center, forest fire truck driver who has charge of the San Marcos station, if it is thrilling to "roll" into action on a red fire truck and she grins and replies, "We haven't been bored yet."
Bad Fires Recalled
Quickly she adds, "This is no lark. We know that in previous years, San Diego county has had some bad fires. We're prepared for them if they come. Right now we are 'road burning' (burning brush along roadsides to reduce fire hazard.) I think the highway patrolmen will tell you we're no sissies." The male staff at Valley Center ranger station stands by for San Marcos when the forestry women are road burning.
Garbed in blue denim overalls, blue denim caps and boys' work shoes, the women know the business end of fire axes and shovels. When they talk about "mopping up" they are not speaking of barracks detail, although they alternate at that. They are talking forestry lingo for shoveling under patches of embers in a burned are so that fire won't flare up again.
Four More Planned.
Forest and brush fires aren't their only business. They are on call also to fight fire in adjacent communities, which are not incorporated cities.
Graduates of an intensive course in firefighting, conducted at La Mesa headquarters under supervision of E. S. Miller, state forest ranger in charge of San Diego county, the forestry women have had thorough practice under supervision and conduct daily drills, Miller said yesterday. He said the unit would be augmented to eight by June 1.
Live in Barracks
"We sleep in bunks and live strictly barracks style," says Mrs. Pirazzini. Our only concession to femininity is window drapes. We take turns at barracks detail and garden detail." They have a neat lawn and victory gardens flourish on opposite sides of the white, green-trimmed frame building which they painted. Mrs. Eleanor Schnurr, of Lakeside, is the assistant fire truck driver. She is "Butch" to her forestry sisters. Mrs. Anita B. Graves, of Escondido, called "Babe" and Miss Doris I. Tompkins, nicknamed "Tommy," have the rating of forest firefighters.
Alternate at Jobs
They alternate at being "reel girl," whose job is to reel and unreel the hose; "Middleman," who keeps the hose from misbehaving, and "nozzleman."
"They all like to be nozzlemen," says Mrs. Pirazzini. "The nozzleman gets to ride in the front of the fire truck." First of the four to join the forestry service was Mrs. Pirazzini, whose husband A. P. Pirazzini, is a former assistant state forest ranger.
Works Three-Day Fire
"I joined the forest service last Jan 1 to find out what women could do as firefighters,: says Mrs. Pirazzini. "I found out on Jan 6 when I served as crewman on the three-day Fallbrook fire.
"Women with a sense of responsibility who want to do their share toward winning the war can do this work. We at the San Marcos station are war-conscious. our husbands are servicemen and so is Tommy's fiancé. We serve eight hour shifts on a 24-hour day basis, and we are on call all the time. Yes, we're busy, but we find time to write our men. We are buying war bonds too." On her evenings off, Mrs. Pirazzini conducts three civilian defense classes to train auxiliary firemen in near-by communities.
No Truck Too Heavy for Two Women Drivers
Riverside Daily Press, Jul 21 1943
No matter how heavy the truck, two Riverside county women who are now playing important wartime roles in fire protections can handle it. The two are Mrs. Eleanor Schnurr, driver for the state forestry fire fighting unit stationed at Temecula, and Eleanor Hebert of the Perris forestry headquarters staff. Both are licensed drivers, having passed necessary tests and proved their ability to handle heavy motorized equipment. Mrs. Schnurr was formerly in charge of a state forestry station at Del Mar. Recently transferred to Temecula, she has already merited her reputation as a crack driver. Her work during a heavy section of the Santa Rosa ranch was lauded recently by fellow firefighters. Mrs. Hebert has been a driver since March and is set to go when needed. She readily admits that she spends some of her days off transporting livestock to Los Angeles. For three years she was an active driver of hauling equipment in the San Jacinto mountains.